UNDER WATER:  No, this isn't about teams struggling with gate receipts or trying to deal with the forthcoming Salary Cap.  Instead, this is about a team and city whose building is literally "under water."  The Saddledome in Calgary apparently fell victim to massive flooding in the area.  According to several reports, the waters have risen to as high as the 10th row of the lower bowl!
Even if you've never had the pleasure of watching a game in this building, imagine your favorite venue…then picture in your mind flood waters 10 rows high!
Furthermore, it is a common practice between events to lower the Jumbotron to floor/ice level.  That is also the case here–so that is toast.  And, if the water is 10 rows high, need I tell you that the locker rooms are also submerged.
The Mayor of Calgary Naheed Nenshi commented on the state of the Bow River: "looks like an ocean at the
moment."  Canadian Forces are deploying 1,200 troops to the area, while as many as 100,000 people were preparing for evacuation.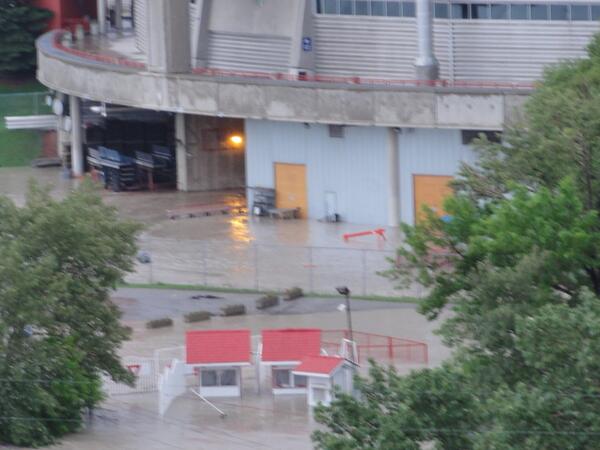 Photo courtesy of Glenn Street
If you are not familiar with the Saddledome, this is the area where team buses typically pick-up and drop-off players…and the fans line the fencing in hopes of scoring an autograph.
                                  Photo by Julie Van Rosendaal
Of deeper concern, is that there is a heavy rainfall warning in rainfall warning in effect for the next two days.
*****
UNTIL THE NEXT TIME WE LACE 'EM UP AND HIT THE ICE!–Chris Madsen
*****
TONIGHT'S SCHEDULE:
Dark