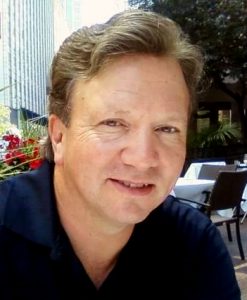 KNX 1070-NEWSRADIO (CBS-Los Angeles) Sports Anchor Chris Madsen is a 7-time Award-Winning On-Air Talent, the Original Television Voice of a National Hockey League Team--the Anaheim Ducks, an accomplished Senior Management Executive, Entrepreneur, Educator, Author and Public Speaker.
Even the most discriminating decision-makers have elevated Mr. Madsen to "Original" status to make that all-important first impression as the Original TV Voice of The Golden State Hockey Rush on NHL Network, the Original TV Voice of Pro Beach Hockey on ESPN and ESPN2, the Original TV Voice of Major League Roller Hockey on MLRHTV and the Walt Disney Company, tabbed Chris Madsen, over all others, with the critical responsibility of  the becoming the Original TV Voice of their first-ever entry into the four Major Sports, the Mighty Ducks of Anaheim.  And now, here are some "Mighty" strong reasons why YOU should make Chris Madsen your own, while reaffirming, it is hard to beat an Original.
A fixture in the KNX 1070 Sports Department since 2005, Chris Madsen and his colleagues at KNX 1070-NEWSRADIO were presented with the Southern California Sports Broadcaster of the Year Award by their peers at the Southern California Broadcasters Association as the Best Radio Sports Anchor Team in 2007, 2011, 2012, 2013, 2014 and 2015.  Furthermore, Chris and the Morning Team at KNX 1070 were recipients of the coveted Edward R. Murrow Western Region Award in the category of "Outstanding Morning Newscast" for 2011.
A gifted Writer, Interviewer, Producer and Voice-over Artist, Madsen's versatility shines through at CBS-Los Angeles as he expertly transitions from Major League Baseball to the NFL, the NBA, the NHL, MLS, NASCAR, the PGA, the Olympics, Horse Racing, Tennis, Cycling, MMA, Boxing and the World Cup. Furthermore, Chris Madsen's Live News Reporting skills have also been featured on KNX and the CBS Radio Network while covering breaking stories in the LA and Orange County areas.
In the fall of 1993, the Walt Disney Company (WDC) introduced Chris Madsen as the First-Ever Television Play-by-play Announcer in the history of the Anaheim Ducks. Madsen's rise to one of the most coveted positions in the National Hockey League was right out of a Hollywood script--considering he had no inside contact at WDC, no agent, and only ONE NHL game on his resume.
Yet, Mr. Madsen persevered and came to realize a life-long dream by beating out more than 500 other applicants for the position. Madsen seamlessly made the vast jump from the college ranks to the pros and was immediately cast in the role of the consummate Team Player and Ambassador. Chris Madsen became an integral part of the Ducks Brand, calling all 495 consecutive telecasts over the franchise's first nine seasons on KCAL 9 and FOX Sports West and Prime Ticket. Mr. Madsen earned a Local Emmy nomination for his work as Host of the weekly magazine show DUX TV—which Madsen also Co-Wrote and Co-Produced.
Chris Madsen co-hosted DUCKS ON ICE--the Ducks pre-game show on FOX Sports Net, and proved to be a skilled salesman on the Ducks Home Shopping Network. Madsen also ran lead on all simulcasts produced by the "MIGHTY-690AM" adding Pre- and Post-game duties to his Play-by-play responsibilities. This came naturally to Mr. Madsen after serving in the same capacity for the Chicago Blackhawks on WBBM 780-CBS Radio in Chicago, as well as, Host and Game Analyst for the visiting Toronto Maple Leafs, Montreal Canadiens, Calgary Flames, Buffalo Sabres, and Minnesota North Stars.
A seasoned Marketer determined to make an impact behind the camera, too, Chris Madsen was tabbed as the Duck's Liaison to the world-renowned Disney University and took the initiative to create an ever-evolving set of educational classroom programs that integrated the History of the Ducks Organization with reading, retention, and inter-active recall for students and adults of all ages. Furthermore, by hiring Chris Madsen with Director Status, the Walt Disney Company utilized his Business Development skill set to benefit the organization's bottom line. The former Ad Agency Owner was commissioned to oversee the marketing and advertising sales of the team's Internal and External Publications.
Mr. Madsen proceeded to produce and create customized Marketing Materials, while personally executing a sales initiative that resulted in a 300% increase in sponsor participation in a single off-season. Always the philanthropist, Madsen availed his talents to several Non-profit Organizations, such as Cystic Fibrosis, Disney GOALS, Second Harvest Food Bank, Discovery Science Center, The Juvenile Diabetes Foundation, Pediatric Cancer Research Foundation, CHOC-The Children's Hospital of Orange County, and others, collectively resulting in hundreds of thousands of dollars in much-needed additional revenues and immeasurable goodwill.
By 1998, Chris Madsen had established himself as one of the premiere game-callers in the NHL and was rewarded by ESPN who added the hockey aficionado to their prime time line-up of Stanley Cup Talent  and paired the popular Play-by-play announcer with the likes of NHL notables Neil Smith, Brian Engblom, Rick Bowness and Tony Twist.
By 2002, Madsen's delivery and thorough preparation for the game was recognized in an op-ed piece published on sanjosesharks.com, when noted Game Analyst, Drew Remenda, recognized Chris Madsen as the Play-by-play Announcer of one of the five best television tandems in ALL of Hockey.
Chris Madsen burst onto to California media scene after honing his craft for nine years at SportsChannel-Chicago--presently known as COMCAST SportsNet. Madsen sparkled in his roles as TV Play-by-play Announcer for Hockey, Baseball, Basketball, Volleyball and Tennis--in addition to hosting UIC Flames Sports--a weekly television magazine show.
Away from the booth, Chris Madsen boasts an impressive dossier of Entrepreneurial and Senior Management endeavors. Madsen's critically acclaimed book "Joshua Shoots! He Scores!" The Greatest Call I Ever Made, has benefited numerous charities, schools and organizations.
This heartwarming story of Chris's relationship with an aspiring young broadcaster, Joshua Souder, challenged by Cerebral Palsy, prompted this endorsement from NHL Stanley Cup Champion, Teemu Selanne-- "Josh and Chris prove what miraculous things teammates can achieve when they work together." Randy Youngman, Orange County Register adds, "It is a truly inspiring story and book, one that elicited many goose bumps and moved me to tears. And I predict it is a movie waiting to be made." And Larry Stewart of the Los Angeles Times declares, "Wonderfully written…beautifully told…and ends on an incredibly high note."
A dynamic Public Speaker, Chris Madsen's seminars on "Recognizing, Creating, Seizing and Sustaining Your Golden Opportunities" have been met with generous enthusiasm by Graduate and under-grad audiences and students at numerous Southern California elementary, middle and high schools. Madsen is an active participant in the Orange Unified School District's Celebrity Reader Program for Kids, and actively supports numerous charitable endeavors.
Mr. Madsen's ability to educate and inspire aspiring broadcasters and students of all ages blossomed over a nine year span, while serving as a substitute Broadcasting Teacher at Chicago's prestigious Columbia College. That same passion for his profession has afforded Madsen the opportunity to serve as Baseball Play-by-play Counselor at the Sportscasters Camps of America at Angel Stadium and at the nationally recognized Broadcasters Training Network.
Mr. Madsen has served as an Adjunct Professor of Sports Broadcasting at Mt. San Antonio College. Considering his versatile body of work over a 35-year span in Major Market Television and Radio, Chris Madsen instituted a "Real World" classroom environment designed to hone each student's skill set in the areas that News and Program Directors are seeking, while instilling a spirit of accountability and on-time production delivery. Prof. Madsen's performance prompted Evaluators to note that he, "demonstrated (the) hallmarks of an experienced teacher even in his first assignment here, while students show high ratings and very positive comments."
As Chief Marketing Officer of Madsen Media, Mr. Madsen offers Public and Media Relations expertise, Crisis Management, Television/Radio Production, Publishing, Web Content, Marketing, Branding, Voice Lessons, Speech Writing, and Public Speaking expertise, on a Consultancy basis; in addition to providing Customized Voice Mail Production, Event and Live Auction Hosting.
Chris Madsen's winning track record for Organizational Leadership, Team Work, and a determination to turn Concepts into Reality, can be traced back to 1984, when Madsen was tabbed to spearhead unprecedented growth as the General Manager for Phone Programs of Illinois (PPI). It was at PPI where the Chicago native successfully made the transition from Talent–to News Editor–to Director– to Senior Management.
Mr. Madsen oversaw every aspect of the company's successful expansion — including Planning, Finance, Construction, Contract Negotiations, Human Resources, Marketing and Programming to marketplaces such as Los Angeles, Orange County, San Diego, San Francisco, Oakland and Sacramento, resulting in an additional revenue flow of over $3 million dollars per year.
By 1985, Chris Madsen went on to gain national notoriety while serving as the President/CEO of CMAD Communications (presently known as MadsenMedia.com).
By creating a Full-Service Production and Advertising Agency, Madsen's innovative marketing methods and production techniques of passive and interactive telephone hotline programs for such notable clients as the Chicago Cubs, White Sox, Bears, Blackhawks and the entire National Football League, forever changed the landscape of the pay-per-call and non-pay-per call industry and made Madsen one of the foremost experts on combining technology with information and entertainment.
A Dean's List Student, Chris Madsen attended Lewis University in Romeoville, Illinois, on an Academic/Baseball Scholarship and received his Bachelor of Arts Degree, with Honors, in Speech Communications/Journalism. Chris and his wife, Lori--a "Teacher of the Year" recipient in Elementary Education--reside in Orange County, along with their Papi-poo puppies, Sweet Pea and Martini.